Come and enjoy these goods at our Canonbury Antiques Hertfordshire showroom / gallery / warehouse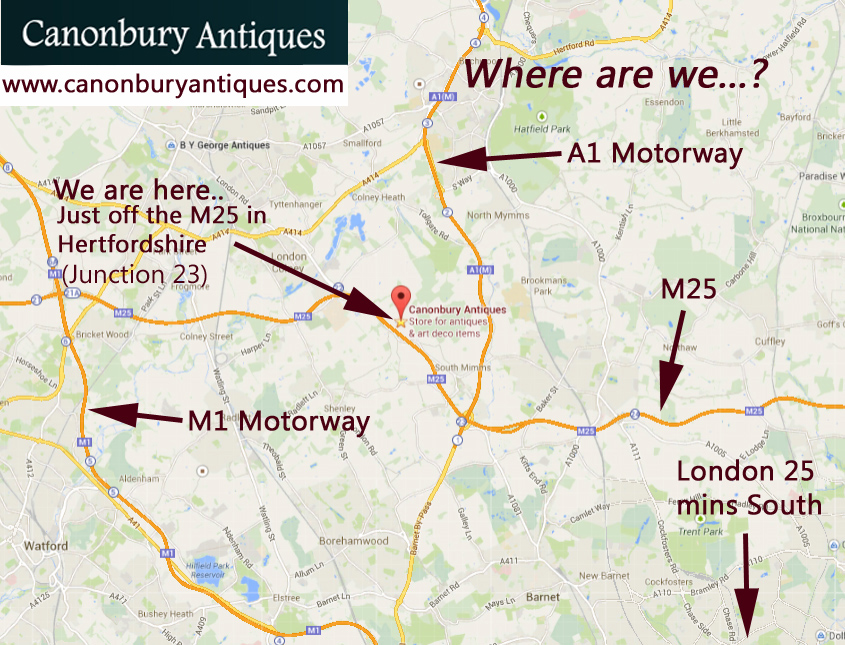 We are only 25 minutes north of London and are conveniently located right near where the A1 meets the M25. We are also accessible via train and the nearest station – Potters Bar – is just 15 minutes north of Kings Cross in central London. There is a minicab firm right outside the station or we can pick you up.
Lots of goods in our showroom and of course we are popular with our German customers.
Of course Saturday viewings at the Canonbury Antiques Hertfordshire showroom are popular as some of our customers like to make a day out of it as we are close to lots of places of interest and beauty. St Albans – a lovely Roman / market / Cathedral town is only ten minutes away, as our numerous country pubs and walks. Let us know what you are interested in seeing and we will gladly point you in the right direction. We even have people flying in from Dresden, Berlin and Munich.
If you like anything you see on the website please let us know and we can arrange a viewing at our Canonbury Antiques Hertfordshire showroom. We are open on Saturday's on the weekend and this is one of our most popular times. I guess as our customers are not working and can take time to fully browse and appreciate the Alladin's Cave that is our showroom! We are open 10am to 5pm on Saturday's so please let us know if you'd like to come by.
We also have a large range of classic farmhouse furniture – large oak refectory tables and as before we have various chairs to match includingladderback, spindleback, Windsor chairs and Mary Tudor chairs. Again you can try these out for size and comfort in the Canonbury Antiques Hertfordshire showroom beofore making the final purchase.
Other specialities of ours includes art deco furniture of all types, large bronzes and architectural pieces, French and Asian porcelain, French furniture and English antiques. We can ship these goods to any part of the world so let us know if you'd like a shipping quote and we look forward to seeing you soon in leafy Hertfordshire.